Featured Products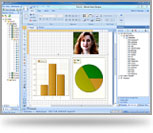 Business Intelligence Studio
Nucleon BI Studio is an innovative business intelligence, data visualization  and data analysis tool. It supports MongoDB, NuoDB, Oracle, DB2, Informix, Netezza, Ingres, SQL Server, SQL Azure, MySQL, PostgreSQL, FireBird, SQLite and MS Access database systems and ODBC/OleDb connections. BI Studio provides rich BI Reports, Charts, Dashboards, Queries, Workflows and Data Export/Import features. It supports SQL, JSON and LINQ queries and R Statistical scripts.
More Information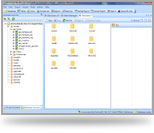 Database Master
Nucleon Database Master is a powerful and modern database development and management tool for MongoDB, NuoDB, Oracle, DB2, Informix, PostgreSQL , MySQL, Netezza, Ingres, SQL Server, SQL Azure, FireBird, SQLite, dBase, MS FoxPro database systems. Database Master allows you to manage Tables, Views, Procedures, Indexes, Triggers, Relations, Collections and supports SQL, LINQ and JSON queries and commands. It provides rich data export and import features and supports ODBC and OleDb connection technologies.
More Information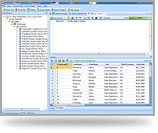 Nucleon File Master
Nucleon File Master is a free and handy file and document data viewer tool which can open XML, AutoCAD P/ID DCFX, MS Excel, MS Access, MS FoxPro, dBase, SQLite, IBM Lotus Notes, Paradox, CSV and Text files and documents. Using File Master, you can view, query, visualize and report the data from data sources. It supports SQL queries against the supported file formats.
More Information
---
Latest news
BI Studio Workflows

BI Studio Workflow allows you to design and run export, import, query, report etc. workflows.
BI Data Search

BI Studio provides advanced data and fulltext search features.
BI Studio Charting

BI Studio Charting provides easy to use designer and rich charting types.
BI Studio Reporting

BI Studio Reporting provides rich reporting components and powerful designer.